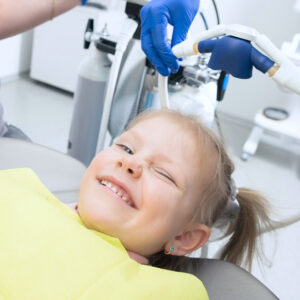 Choosing your child's pediatric dentist is a crucial part of their oral—and overall—health. While many dentists can treat children, pediatric dentists undergo specialized training to identify and treat dental problems in children in a way that keeps them calm and comfortable. A proper pediatric dentist will instill a sense of trust in your child that going to the dentist is a normal and important part of staying healthy as they grow up. Finding the right dentist, however, can be a challenge, so here are a few factors to consider when choosing a dentist for babies and children.
Consider Experienced and Board-certified Pediatric Dentists
Ensure that the dentist you are considering is a licensed and registered pediatric dentist. Children's pediatric dentistry is its own specialization and requires formal training. Any dentist you are considering for your child's health should have their qualifications prominently displayed in their clinic, and available to show you upon request. Pediatric dentists undergo additional years of training after graduating from dental school.
Pediatric dentists learn how to treat child-specific dental issues as well as other related fields like child psychology, pharmacology, anesthesia, and dentistry for special needs children. Studies have shown that children, especially those with special needs, process and understand directions differently, meaning that it takes a specialist to ensure that a child is comfortable and well informed of the treatment they need.
This is especially important when explaining a home care routine to a child, as learning to care for their own teeth is one of the most important aspects of dentistry both during and after developmental age. Having a solid foundation of home care, comfort in a dental office and during treatment, and an overall trust of the dentist themselves are some of the most crucial factors in determining lifelong oral health.
Search for licensed pediatric dentists in your area and inquire as to whether they are part of any boards or dental organizations that specifically focus on children's oral healthcare like the American Board of Pediatric Dentistry.
Ask Questions to Ensure Your Child's Comfort Ahead of Time
It's important to call ahead and ask about what to expect when seeking treatment with a specific dentist. One of the most important questions you can ask for both you and your child's peace of mind is: Are parents allowed in the treatment room with their child? There may be various reasons why a parent would be excluded from accompanying their child during treatment, including space limitations, treatment type, or personal policies by the dentist themselves. If your child is especially nervous about seeing their dentist, or if you want to ensure that you understand the kind of care they are getting, it's best to find a dentist that can accommodate your presence. Call ahead and make sure that you'll be able to be by their side!
Pay Attention to Insurance Coverage and Membership Plans
One of the earliest questions you will have to answer is whether the pediatric dentist you are considering is within your insurance network. Depending on your plan, you may find that there is little difference in out-of-pocket costs for seeing a dentist outside of your network.
In fact, certain plans are contractually bound to limit the type of care they can provide for your child, while out of network dentists may not be bound by such limitations—like if your child would prefer a specific type or color of braces, or if your child requires a certain type of anesthesia that is unavailable at an in-network dentist. In these cases, it may be worth it to seek care at an out-of-network dentist.
Some clinics like Champagne Family Dentistry in Sparks, NV, also offer special pricing in the form of a monthly membership plan for uninsured or out-of-network patients, allowing them to pay one flat rate for treatment instead of going through an insurance provider. This can take the burden off families who are unable to find dental coverage and ensure that children still have access to basic and crucial care like cleanings, fillings, fluoride treatments, and x-ray imaging—all for a flat rate of $29 per month. This even includes parents without insurance, who can find treatment for $99 per month.
Pay Attention to Online Reviews
Check the online reviews for any dentist you're considering. Pay attention to comments about availability and pricing, but also to other, more personal aspects of a pediatric dental practice. Is the clinic clean? Did previous patients wait very long for treatment? Did the dentist show a professional, courteous attitude to their children? All of these will impact your decision on which pediatric dentist you can trust with your child's care.
How To Find a Great Pediatric Dentist in Sparks, Nevada
If you live in Northern Nevada, Champagne Family Dentistry is one of the only board-certified pediatric dental clinics in Sparks. With monthly membership options, a clean office, and friendly, professional staff, we are prepared to give your child the care that they need. Call today to speak to our staff about scheduling your first appointment.