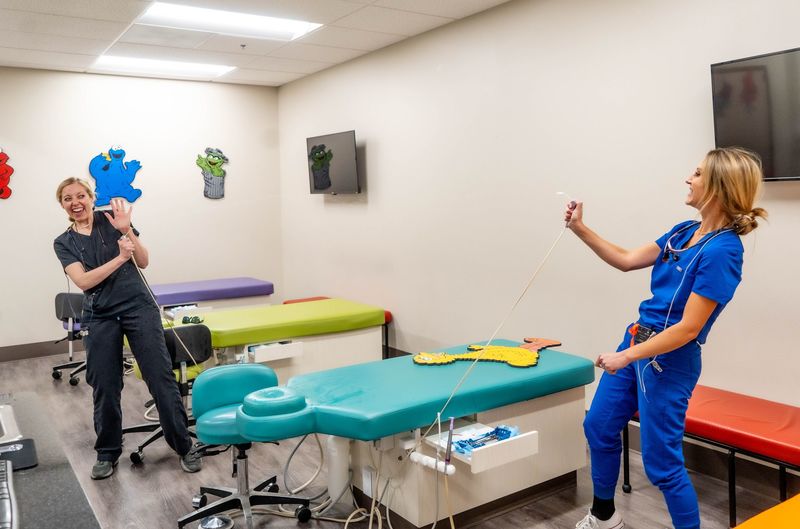 At Champagne Pediatric Dentistry, we believe that a visit to the dentist should be a delightful experience for children. Dr. Gannam and Dr. Maginot, the dynamic duo leading our practice, have made it their mission to create a fun and engaging environment that transforms dental care into an exciting adventure. From the moment families step into our kid-friendly waiting area to the moment they leave with beaming smiles, we are dedicated to fostering a culture of joy and making dental visits a memorable experience for all.
The Dynamic Duo: Dr. Gannam and Dr. Maginot, our extraordinary dental superheroes, are not your ordinary dentists. They possess a unique blend of expertise, warmth, and a genuine love for children that instantly puts young patients at ease. Their charismatic personalities and passion for pediatric dentistry shine through in everything they do. With their gentle touch and friendly approach, they have turned dental visits into a captivating experience for even the most apprehensive children.
Creating an Engaging Environment: Our practice is more than just a dental office; it's a wonderland designed with kids in mind. The moment children step into our practice, they are greeted by vibrant colors, cheerful decorations and an atmosphere filled with laughter. Our waiting area resembles a playful oasis, featuring interactive games, storybooks and toys that keep children entertained while they wait. We want kids to feel excited about their visit and look forward to each appointment.
Transforming Dental Care into an Adventure: Dr. Gannam and Dr. Maginot understand that children learn best through play and exploration. They have cleverly integrated this philosophy into their approach, making dental care an exciting adventure. During each visit, they take the time to explain procedures in a child-friendly manner, using age-appropriate language and visual aids. They engage children by inviting them to ask questions, encouraging their curiosity, and ensuring they feel empowered and involved in their oral health journey.
A Kid-Focused Approach: The focus of our practice is always on the children we serve. Dr. Gannam and Dr. Maginot take the time to build strong relationships with each child, fostering trust and creating a safe space for open communication. They understand that every child is unique and may have different needs, fears or anxieties. With their compassionate care, they go the extra mile to alleviate any concerns and make dental visits a positive experience for every child who walks through our doors.
Partnering with Parents: At Champagne Pediatric Dentistry, we believe that dental care is a collaborative effort between our team, the child and their parents. Dr. Gannam and Dr. Maginot work closely with parents, providing guidance on oral hygiene practices, nutrition and preventive measures to ensure optimal dental health for their little ones. We strive to empower parents with knowledge, resources and support to foster a lifetime of healthy smiles for their children.
Champagne Pediatric Dentistry is more than a dental practice; it's a place where children's smiles come to life. Dr. Gannam and Dr. Maginot, the dynamic duo, have created a fun and engaging environment where children feel comfortable, empowered and excited about their dental visits. With their expertise, warm personalities and dedication to providing exceptional care, they have established a culture of joy that sets our practice apart. Together, we are committed to making dental care an adventure filled with laughter, smiles and lifelong oral health.