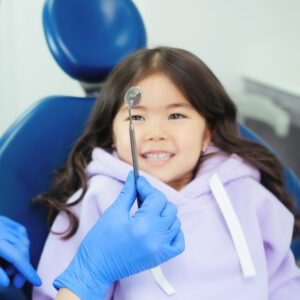 Scheduling children's dental care can be a mystery to new parents—and with good reason. There's a misconception that, because children's baby teeth will simply fall out, dental care isn't as important with babies and toddlers as it is with older children, but this isn't the case! There are plenty of reasons for toddlers (and even babies) to see the dentist regularly, some of which aren't just about the immediate state of their teeth. Let's learn more about how often to go to the dentist with toddlers.
How Often Should Toddlers See the Dentist?
If you ask an adult "how often should you go to the dentist?" almost all of them could tell you it's recommended to get a dental checkup every six months, but that care schedule starts much earlier than most people realize. The simple answer is that pediatric preventive dental care should start as soon as a child's first tooth emerges (usually around six months old). From that point, your child should see a certified pediatric dentist for an initial examination, and then get used to seeing the dentist biannually. It's recommended that your baby visit their dentist at least once before their first birthday.
Why Do Toddlers Need to Go to the Dentist?
Even before they have their 32 adult teeth, babies are born with 20 temporary teeth that should all fully emerge by the age of three or four. Even though these teeth will fall out naturally before your child turns 10 (usually) they are still susceptible to the same problems as adult teeth. In fact, baby teeth have softer and thinner enamel layers than permanent teeth, and are even more likely to experience decay and infection. Childhood cavities and infections can lead to problems in nutrition, pain and discomfort, and a lack of confidence from issues like missing teeth or bad breath. Chronic infection and decay can also impact the health of adult teeth as they emerge, potentially promoting bad teeth into adulthood as well. Visiting the dentist often gives your child a healthy foundation for their oral health for the rest of their lives. No child should have to go without dental care because of the cost. That's why Champagne Pediatric Dentistry takes part in the "Give Kids a Smile" charity event, offering local children in our community free dental care.
Toddlers at the Dentists Are More Confident With Their Care
Other major reasons for toddlers to visit the dentist from an early age are to build up confidence and familiarity with visiting a dentist's office, interact with their dentist personally, and understand the kind of care they will receive. Fear of dentists (referred to as dentophobia) is common even amongst adults and can be so severe that it prevents people from finding the kind of dental treatment they need. Toddlers at the dentist's office from a young age exhibit fewer symptoms of fear and anxiety with checkups into adulthood, and are often more comfortable seeking necessary care, asking questions, and are generally proactive with their oral healthcare.
What Kind of Treatment Do Toddlers Receive at the Dentist?
Since we've already talked about how often to go to dentist's checkups, let's talk about what kind of care your child will receive when they arrive.
The most common type of pediatric dental care is a simple cleaning followed by an examination. During these visits, a pediatric dentist or their assistant (called a dental technician) will remove the hardened plaque and tartar off of your child's teeth with a combination of gentle scraping, brushing, and flossing. The main focus here is on preventing cavities and decay in areas that are hard to clean by hand at home, no matter how diligent your child is about brushing.
Afterward, your child's dentist will perform an examination, checking for things like tooth alignment and straightness, gum recession, active cavities, or other symptoms that may indicate your child needs certain treatments. Sometimes this examination will include radiography (or X-ray imaging) to better help their dentist see what's going on inside of their teeth and jaw.
Finally, certain treatments are only offered—or at least, are more common—during childhood. An example is using sealant, which is a liquid plastic-like coating that is applied to the teeth and then cured to extreme hardness. This prevents decay by creating a physical barrier between the teeth and your child's food. Other common childhood treatments are fluoride rinses or pastes to help harden enamel, fillings for cavities, or even braces and other orthopedic procedures.
Dental Emergencies
Some of the most extreme cases in which your toddler might need to visit the dentist are pediatric dental emergencies. It's unfortunate, but dental emergencies are more common during childhood as children begin to roughhouse, play sports, or may otherwise be accident-prone. While very few dental emergencies are life-threatening, instances like chipped or broken teeth, fractured jaws, or oral lacerations require immediate treatment by knowledgeable pediatric professionals. It is better for children to already be familiar with a dental clinic and care before coming in for emergency treatment as the pain and subsequent treatment could leave them with negative associations with the dentist in the future.
If your child is just starting their dental care journey or if you are looking to join an experienced, family-oriented dental practice, call or visit Champagne Pediatric Dentistry in Sparks, NV. Our clinic has over 40 years of experience helping patients smile in Northern Nevada, and our certified pediatric dental team is equipped to give your child the best care and attention possible in a warm, welcoming environment. For families without dental insurance, we also offer membership plans that allow you and your children to access necessary dental care for a flat, monthly fee. Contact us over the phone, through our website, or visit our clinic to book your first appointment