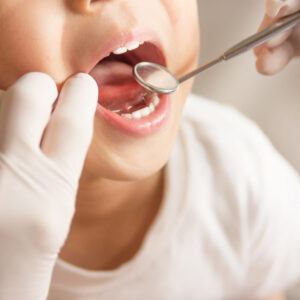 Children's teeth are especially sensitive to decay and other problems that we as adults work so hard to eradicate from our own mouths. Even babies need special care to ensure that they get a good head start with their oral care, and pediatric dentists can help make sure your child's teeth (even the baby ones!) are strong and healthy during their infancy. In fact, even babies without teeth should still see a dentist! Let's look at the ages, important factors, and expectations for your baby's first dentist appointment.
What Are the Most Important Ages for Kids to Visit the Dentist?
It surprises many parents to learn that children should see a dentist far earlier than they might expect. The American Dental Association has stated that a baby's first dental visit should happen when they receive their first tooth—usually at around 6 months old!
Children's teeth are especially sensitive to decay, as their enamel layer is much thinner than those of adults. In fact, most children between the ages of 2 and 5 have at least one cavity. Seeing a dentist can help prevent decay before it begins, or help reverse the effects of decay if a cavity has already started to form.
Even if your child doesn't have any visible teeth yet, they should absolutely see a dentist before their first birthday. For every year that a child goes without visiting a dentist, their chances of developing a cavity or tooth decay double, and since most children will have the majority of their baby teeth by age three, the importance of pediatric care only becomes more pronounced. By age three, children should begin seeing the dentist for regular checkups every six months.
What to Expect From a Baby's First Dental Visit?
A kid's first dental visit will begin with an examination of their mouth, including the gums, soft tissue, and any visible teeth. Your pediatric dentist will be able to tell if your child has any problem areas or special conditions affecting their mouth—like an enamel deficiency, for example—which can help you better plan for a tooth-safe diet or treatment plan as they get older.
In fact, most of your child's first dentist visit can be thought of as an educational experience. Your dentist may ask about your child's eating and drinking habits and may suggest alternatives to foods that may be too high in sugar or starch—like juice or white bread—as children are especially sensitive to the decay these can cause.
Your child's dentist can also show you how to properly clean and care for your baby's teeth and gums with proper techniques for brushing and flossing. (Yes, even baby's need to floss!) Their first dental appointment is also an opportunity for you to ask any questions you might have about their oral care throughout this highly developmental time in their lives. Your dentist can tell you how to alleviate teething pains, the dangers of thumb-sucking into adolescence, and how to wean your child off of pacifiers. It's important to think of dental advice as medical care, and it's always best to seek that advice from an expert in children's pediatric dentistry.
Should I Take My Child to a Family Dentist or Pediatric Dentist?
While the term "family dentist" might imply that they are able to treat any member of the family, the term more accurately refers to a general dentist. A pediatric dentist, on the other hand, has received their Doctorate of Dental Sciences degree and then gone on to have special training and certification in pediatric procedures, child psychology, behavior management, pediatric sedation dentistry, and pediatric pharmacology. Because children's mouths are so physiologically different from adults', and their developmental needs are different, this extra certification is necessary to provide the best care possible for your child—especially when visiting a dentist for the first time.
How to Find a Pediatric Dentist?
Pay close attention to the kind of wording a dentist uses when advertising their services. "Pediatric dentistry" is a special classification and requires a specific type of license to perform, and this license should be prominently displayed somewhere in the clinic or dentist's office. Terms like "family" or "children's" dentist also do not connote the kind of advanced training your child needs to get an accurate picture of their oral health. Also, be sure to pay attention to the patient's reviews on their website!
At Champagne Pediatric Dentistry, we are one of the only fully licensed Pediatric Dentists in Northern Nevada, and we are always proud to provide our littlest patients with the care they need to start life with strong, healthy teeth. Call or visit our clinic today to ask any questions about booking your kid's first pediatric dentistry appointment!